Home > Yafi's Family
Meet Yafi,

This tender story of a six-year-old Ethiopian boy's adoption and family history is a celebration of the all-encompassing love for each child that original families and adoptive parents, grandparents, brothers and sisters share.

Yafi (Yafee), his parents, and two sisters, eight-year-old Kari and ten-year-old Anna, remember his early life and his adoption experience by telling stories, revisiting memories, and looking at photographs. Yafi's Family is the story of love, loss, and a boy's discovery of how wide and how deep the bonds of family can be. (Release Date October 2010.)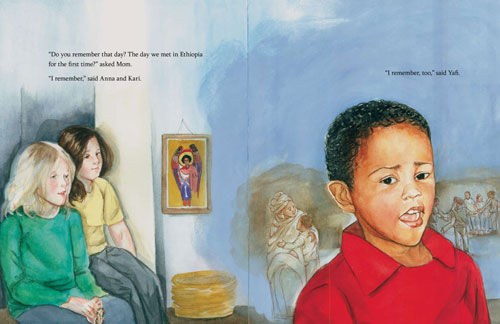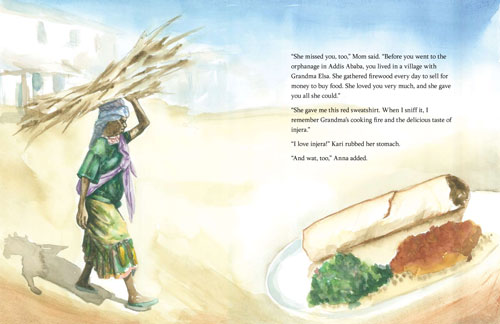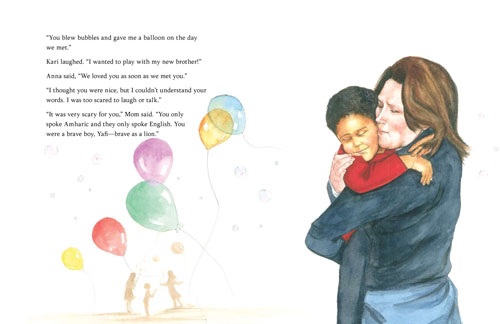 When we were about halfway through reading Yafi's Family together, my 13-year-old daughter, Hanna, turned to me and asked, "Is this our story?" It sure felt like it—although the makeup of Yafi's family is different from ours, his experiences were familiar.
Yafi's Family describes how Ethiopian-born Yafi came to live in an orphanage after his mother died and his grandmother was no longer able to care for him. It tells of his new sisters' delight in meeting him—and the challenges that anybody who has adopted an older child can relate to: the inability to communicate in different languages, the sadness and anger that manifest through acting out, the overeating before food insecurity finally fades. It is a charming story, and the illustrations by Jan Spivey Gilchrist are beautiful and lifelike.
And there is a bonus! Melissa Fay Greene introduces the book with the poignant story of her son Jesse's first glimpse at a photo of his birthmother. Her insightful words about the importance of birth country, birth family, and the path to wholeness are worth the price of Yafi's Family.
Adoptive Families Magazine
Yafi was born in Ethiopia and remembers living with his Grandma Elsa before moving to the orphanage where his new family found him. In this straightforward tale of interracial adoption—Yafi is black, his adoptive family white—Yafi describes his early life and how he felt when first adopted, adding texture through the mention of Ethiopian food and culture. Colorful watercolors depict Yafi's present and memories, while soft brown paintings portray the deceased mother he can't recall. Yafi's adoptive family is open and encouraging, which helps Yafi find a solution; while he doesn't have photos of his Ethiopian family, he can make a picture himself, and he does, drawing both his adoptive and birth families. In this last, childlike drawing, the characters are hard to identify and at first glance appear to be all white. This is a tender tale of the power of family that presents a positive example of how to address the topic of birth parents in a reassuring manner. Inspired by the author's experience of adopting a son from Ethiopia. (Picture book. 5-7)
Kirkus Reviews
"Yafi's Family: An Ethiopian Boy's Journey of Love, Loss, and Adoption" is a children's picture book about the early life story of a six -year-old Ethiopian boy who was adopted by a Midwestern family. Filled with tender, vivid illustrations of the many different places and people who filled Yafi's beginning years, "Yafi's Family" projects a powerful message of acceptance that infuses its heart and core. A foreword by Melissa Faye Greene contains the following quotation: "The message we relay to the children who are ours by adoption needs to be: You came from somewhere. You came from good people. You came from this spot on the globe. This is your birth-country. It is a country filled with people who look like you. Do you remember living there? Maybe you were too little to remember. But it's right there, your country, and it can be part of your life ." This is the burden of Yafi's Family," to deliver a message of acceptance and love, the value of wholeness in discovering one's beginning life story. "Yafis' Family" is also unique as a first mainstream children's picture book for African/Ethiopian adoption.
The Midwest Book Review
Reviewer Choice
A truly beautiful story, one I would happily share with my adopted daughter and biological son. This story reflects the reality for many adoptive children and the varied emotions they experience. What a wonderful resource to be able to share, and one I will be very excited to recommend to adoptive families.
Gaylene Cooper, President, Australian African Children's Aid and Support Association Inc

Yafi's Family is a wonderful story to share with all children who have been adopted, as through the story, permission is given to a child to the concept of continuing to belong to two families. It is a marvelous tool to continue to educate a child of their adoption journey and I am sure this will become a popular book with our adoptive families.
Mandy Birch, Senior Social Worker, Adoption Services Australia
The conversations this adoptive family has with their son about birth family rings so true to life. Although this book is about a child from Ethiopia, it will resonate as much for my Haitian son as it will for my two Ethiopian daughters. I am happy to recommend this book to all families with adopted children.
Julie Valentine, Founder and Director of Adopting.com and African Cradle Ethiopian Heritage Camp Coordinator
Strong words and pictures show the wrench of leaving Ethiopia behind, the love and adventures that greet adopted Ethiopian children, the questions and determination of the children themselves. I'm so glad this book is available for parents, children, siblings, and schools.
Jane Kurtz, author of over 25 books and co-founder of Ethiopia Reads
Yafi's Family is a helpful tool to show the complex emotions an older child may experience during the initial time of transition into an adoptive family and to honor every member of their life story. I recommend this book to any family considering adopting an older child internationally.
Angela Checco de Souza, MSW, LGSW, International Adoption Social Worker Children's Home Society & Family Services

After adopting her son from Ethiopia, Linda Pettitt was inspired to write a story about adoption and family, as a gift for her son. Yafi's Family is the story that evolved from this dream and it is now a gift not only to her son, but for all children to share with their families.

Linda has a great love of travel which has been an important part of her life. Her favorite countries are Thailand, Cambodia, Egypt, Israel and of course Ethiopia. She now has a strong connection to Ethiopia and treasures a wealth of wonderful memories from her trips to this beautiful and amazing country. Linda lives with her husband and three children in Perth, Western Australia and this is her first book.
Jan Spivey Gilchrist's career as a fine artist has spanned a quarter of a century. She has exhibited extensively throughout the United States, Canada, Europe and the Caribbean. Ms. Gilchrist has won numerous awards and commissions throughout her career, including the Coretta Scott King Award for Nathaniel Talking, and a Coretta Scott King Honor Book for Night on Neighborhood Street.

Ms. Gilchrist's work has appeared on national television, and her illustrations have been featured or reviewed in the New York Times, Boston Globe, Washington Post, L.A.Times, USA Today, Chicago Tribune, Ebony Magazine, the Oprah Channel and others. She was inducted in the International Hall of Fame for Writers of African Descent in October of 2000. She was also inducted in the prestigious Society of Illustrators in 2001.